Forum T, samtal om regi – del 2
Turteatern / Kärrtorp
lör
17 sep
kl 10.00 –
AVSLUTAD
Forum T, samtal om regi – del 2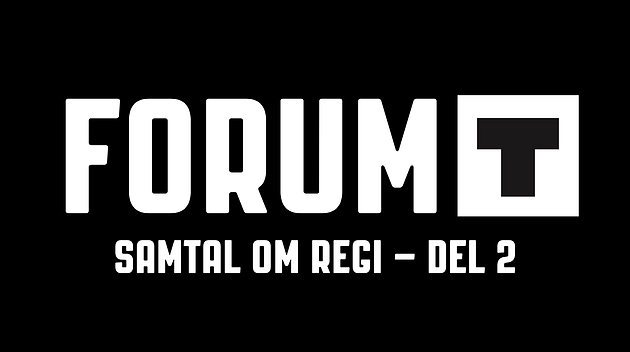 I Samtal om regi, del 2 kommer vi fokusera på regissörens förhållningssätt till rum, plats och visualitet. Vad är regissörens visuella och rumsliga utgångspunkt? Hur ser regissörens eget arbete ut med rum, och hur ser samarbetet med scenograf, ljusdesigner eller andra visuella praktiker ut? Hur förhåller sig regissören till den historiska plats som teatern och teaterscenen är i relation till andra rum? Utifrån dessa frågor vill vi fördjupa oss kring rummets betydelse för teatern och dess inverkan på olika regissörers konstnärskap.
Teaterns relationen till rum och visualitet har förändrats genom teaterhistorien. Från teatern som en rituell plats, moralisk institution, borgerlig underhållning, gesamtkunstwerk eller den tomma spelplatsen. Suggestion eller verfremdung, det immersiva, det visuella, eller digitala. Listan kan göras lång på olika inriktningar där många idag existerar vid sidan av varandra.
The word theatre is derived from the Greek theatron which denotes the place from where the theatrical event is seen. The theatre organizes the relation between those seeing and what they see, mediating in a specific relationship between the two. The theatre, therefore, (or so it would seem) presents the object par excellence for an analysis of visuality as a phenomenon that takesplace within the relationship between the one seeing and what is seen and against the backdrop of culturally and historically specific visual practices.

– Visuality in the theatre, Maaike Bleeker (2008)
Program:
10-13 Block 1 – Individuella samtal med medverkande regissörer.
13-14 Lunch
14-17 Block 2 – Gemensamt samtal och frågor.
17→: Middag och bar/AW
Kaféet kommer vara öppet under hela dagen. Där finns det möjlighet att köpa lunch och/eller middag.
Seminariet kommer hållas på engelska.
Medverkande regissörer:
Susanne Kennedy
Susanne Kennedy lives and works as a theatre director in Berlin, Germany. She responds to the new balance of power between bodies, technical objects and machines with an aesthetic that is beyond the human. Distorted by masks, playback dialogue, doppelgängers and multimedia the actors embody the ancient question: what does it mean to be a human being? During the last years her work has gained international attention and is being shown at festivals like MITs Sao Paulo, Athens Epidaurus Festival and the Festwochen in Vienna. In 2017 she won the European Theatre Prize for New Theatrical Realities in Rome.
She has been a an associated artist at the Volksbühne in Berlin since 2017 where she works together with her partner, the visual artist Markus Selg. Together they create installations, operas and plays.
Signa Köstler
Signa Köstler (born Sørensen) was born in Århus in 1975. After graduating from the University of Copenhagen with a dual degree in Art History / Film & Media Studies, Sørensen began to experiment with installation as a medium, initially financing her work by taking employment as a champagne girl in night-clubs. As stated in various interviews, the experiences and environment of the profession inspired, and crucially influenced her future body of work. Testing the limits of proximity and intimacy, Sørensen began placing herself within the installations and among the audience. Often controversial in theme and radical in form, her performances won her praise as one of Europe's leading performance artists and directors. In 2004, Arthur Köstler joined her and they founded the performance collective SIGNA. Köstler has been nominated for many distinguishing awards: the Reumert Prize for Salò (2010) and Seven Tales of Misery (2006), and an invitation to the Berliner Theatertreffen 2008 with Die Erscheinungen der Martha Rubin (voted one of the 10 best theatre performances of the year 2007). She received the The Danish Stage Directors´ Price of Honor in 2006, and was awarded with the Bisballe Prize in 2005. The Danish Arts Council has been a continued source of support for her performances via several grants and scholarships throughout her career. Signa is married to Arthur Köstler, and they live in Copenhagen.
Ulla Kassius
Ulla Kassius has worked with scenography and costume since the 70s, mainly in theater but also in film. Kassius' scenographies have a strong signature and her collaborations with director Mattias Andersson have made a big impression in the theater world. Some of their works are The Mental States of Sweden, The Act of Goodness, Den yttersta minuten at Dramaten and the trilogy Crime and Punishment at Backa Teatern. As a director, Kassius has directed De sista vittnena with texts by Nobel laureate Svetlana Aleksijevic at Dramaten, Premiären at moment:teater and Pappersgudarna at Angeredsteatern. For her artistry, she has been awarded Stockholm's city's honorary prize and Svenska Dagbladet's Thalia prize together with Mattias Andersson. In 2012, she received two of the world's top scenography awards at World Stage Design in Cardiff. In 2022, Ulla Kassius was awarded the Swedish king's medal in the 8th size with a blue ribbon "for meritorious contributions to Swedish theater life". Ulla Kassius is currently working with the scenography for Nordic Crime at Dramaten.
Samtalsledare: Marie Nikazm Bakken, Olof Runsten och Gustav Englund.