Queer porr
Terminalen / Stockholm
tor
6 okt

2022
kl 22.00 –
AVSLUTAD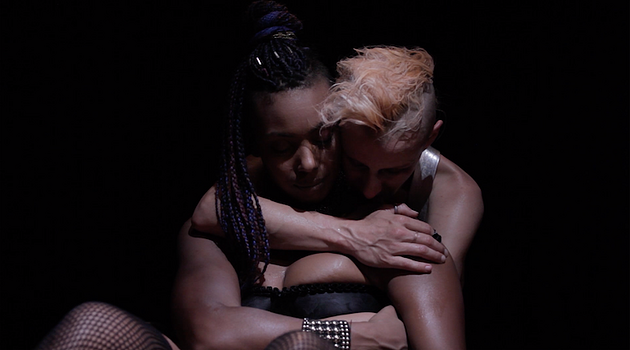 HOLD
Marit Östberg / Sverige / 2021 / 14 min
Hold is a film about the dynamics of intimacy in BDSM. About being together in our longings, our pain and the total stillness.

Performers: Caritia, Beinggg, Ambrita Sunshine, Mad Kate, Sadie Lune and Oona.
Dirty Boots
Adam Baran / USA / 2013 / 5 min
Dirty Boots follows a sexually-charged day in the life of a gay biker gang in
Brooklyn. They awake in a tangle of leather, then suit up and ride to an
underground sex club to initiate new members. Boundaries are pushed, but
they find love, family and the unexpected.
Featuring a diverse range of queer Brooklynites and stars, including iconic
adult performer Dominic Fournier also known as ABeardedBoy and narration
by legendary porn god Peter Berlin, Dirty Boots is an imaginary transposing
of gay motorcycle culture to a queer Brooklyn community. The video draws
visual inspiration from the gay motorcycle club subculture, as well as the
films of Kenneth Anger and the photography of Karlheinz Weinberger.
Language: English

Snack Time
House of Huitlacooch / USA / 2021 / 5 min
Snack Time' is a mota-haze journey through a lovers tranz narrated by
Chicago based multimedia artist, AmeThyzt.
This erotic short is the second episode of the ongoing series, All You Can Eat,
a collaborative film series project between House of Huitlacooch and Sarita's
Pleasure Pie Shop. The series highlights the diversity of ways that food, land,
and sex connect us to community and collective healing.
Performers: AmeThyzt, Calba, Domingo Paplotl, Kiana
Language: English

The MultiVerse in a MouthFuck
Jorge The Obscene / Chile / 2022 / 22 min
Enter the multiverse deep within yourself, this film touches on so many
properties of humanity making it not only a mouthfuck but a mindfuck as
well. Join Jorge the Obscene in a club as Jorge is struck by a stream of
thoughts drawing him closer to a stranger. Jorge finds himself deepthroating
this stranger as all these thoughts race through his mind—"Find our own
truth","Will it"—prompting Jorge to question the very standards we are
taught to believe uphold sex and sexuality.
Performers: Candy Flip, Gio Black Peter, Jo Pollux, JorgeTheObscene, Kate
Hole, Mad Kate, Medad Rangay, Nicky Miller, Rafael Medina, Schoko
Channel, Sultan of Filth, Tristan Rehbold
Language: English

Cybernetic
Pleasure Beyond Flesh / Sweden / 2021 / 11 min
Where does a body end? Neural connections and flesh. What is pleasure?
Connecting synapses, fluids of nutrients, and comfort. What time is love?
Spasms and contractions. Beating pulse, beating heart. Pleasure beyond
flesh.

Performer: Fittglitter
Pleasure Beyond Flesh was conceived in Stockholm, Sweden, as a creative
outlet to explore sexuality on film in a highly visual manner.
Their films diverge from contemporary pornography in a way to please both
the creative and sexual minds. They set out to explore the borders between
art and porn, only following their own rules. If it's consensual - it's OK.
 
Ava On The Bench
Carlos Deth of Mondo Fetiche / USA / 2019 / 22 min
Leather Daddy Ashley Paige puts Ava D'Amore on the bench!
Performers: Ashley Paige, Ava D'Amore
Mondo Fetiche is a premier art/queer/kink production studio and content site
for discerning deviants. That celebrates the beautiful, strange, and colorful
world of fetish. Inspired by arthouse and grind house cinema, there x-rated
films explore identity, gender and sexuality in the most sensational way!
Language: English
Snask
Prinsessan T / Sweden / 2016 / 8 min
Snusk is maid for Elle. A film part of a series that explores the body's
relationship to objects and observer when living with a secret sexuality.
Where does the boundary go for what a body is allowed to do when it can't
be identified?
The films are made with tools available outside the industry. A lofi-production
and exceeding in materials. Prinesssan T's works often aims to contribute to
discussions about belonging and heritage.