Repertory N.2 by Davi Pontes & Wallace Ferreria
Stadsgårdsterminalen / Slussen
tor
1 sep

2022
kl 18.30 –
AVSLUTAD
lör
3 sep

2022
kl 17.00 –
AVSLUTAD
Repertory N.2 by Davi Pontes & Wallace Ferreria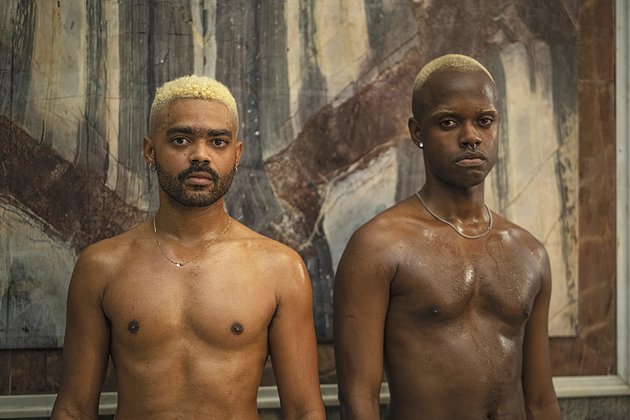 Repertory N.2 is the second part of a choreographic experiment to think of dance as a practice of self-defense. Using deviant and informal techniques, we bet on an alternative, underground genealogy of self-defensive practices. With these choreographies, we assume the commitment to think critically about the world we live in, performing the operation of choreographing between imagination and intuition, trying to free thought from the tools of understanding.
NOTE: A talk will be followed after the second performance on Saturday of Repertory N.2 will be a talk between Davi Pontes, Wallace Ferreira and independent curator André Lepecki.
Davi Pontes (Rio de Janeiro, Brazil,1990)
Artist, choreographer and researcher. Graduated in Arts at Universidade Federal Fluminense and Master's student in the Postgraduate Program in Arts (Contemporary Studies of the Arts) at the same institution. He studied at the ESMAE Superior School of Music and Arts (Porto, Portugal). Since 2016 he has presented his work in art galleries and festivals, especially at the University of Pennsylvania (USA), Pivô (São Paulo), CLACS - New York University, 5° Itaú Cultural Dance Show, Centro Cultural de Belém (Lisbon), Rua das Gaivotas 6 (Porto), Bienal Sesc de Dança, MITsp - Mostra Internacional de Teatro de São Paulo, Les Urbaines festival (Switzerland), Galeria Vermelho (São Paulo), Valongo Festival Internacional da Imagem (São Paulo), Programa Rumos Itaú Cultural 2021, Panorama Festival (Rio de Janeiro), Artfizz - HOA Gallery (USA) and resident at Pivô Arte Research Program, MAM Rio Arts Research Residency Program and Escola Livre de Artes - ELÃ among others. From a corporal research, their practice carries the constant challenge of positioning choreography and raciality to respond to the onto-epistemological conditions of modern thought, and have as main project to analyze the conjunctures in which violence is being practiced in the global present.
Wallace Ferreira (Rio de Janeiro, Brazil, 1993)
Dance artist, performer, visual artist born and raised in Vigário Geral, a suburb of Rio de Janeiro. He studies Dance at Universidade Federal do Rio de Janeiro (UFRJ), building strategies and choreographing actions to escape representations. Through undisciplinary practices, his creations cause accidents in the languages of dance, theater, performance and the visual arts, investing in the perception of himself as a possible path of muscular dreams. Through other perspectives, new visions of the self. Driven by the challenges of tensioning the present, since 2018 she has presented her works in art galleries, national and international festivals such as Tanya Bonakdar Gallery (NY), Festival Panorama, ArtRio, Lateral Roma, HOA ART, Artfizz, Galeria Jaqueline Martins. Among her most recent works, the "Repertório" trilogy in partnership with the artist Davi Pontes stands out, who was at the VERBO exhibition of the Vermelho gallery, Valongo International Image Festival, Anita schwartz art gallery, Frestas - Arts Triennale 2020/21. He directed the film Delirar o Racial in partnership with the artist Davi Pontes, a work commissioned by the Pivô Satellite Program, 2021.
"What if'' echoes in the old ferry terminal of Birka cruises (RIP!), now turned into a new culture point named Stadsgårdsterminalen. For MWF 2022 we ask ourselves "Can a dance and performance festival become a site for speculating alternative futures?" Through the now, though the then? Through togetherness and through choreographic experiments that can only render us into the unknown.
My Wild Flag is a festival and a choreography, inviting international guests to Stockholm showing performance arts, danceworks and social choreographies in new spaces for thinking. Come for some self-pleasure, erotic togetherness, imagination, intuition and alternative histories occupying space and time together.
My Wild Flag is initiated, organised and curated by Karina Sarkissova and Pontus Pettersson. Graphic design by Michael Fowler. Documentation by Vladyslav Kamensky. Technical crew: Em, Jonatan Winbo and Lumination of Sweden.
With support from Stockholm City Council of Culture, Swedish Arts Council and Nordic Culture Point. For 2022, MWF is collaborating with Danscentrum Stockholm, Dansens Hus, Kollektivet Livet and Lumination of Sweden.