Afterlife by Louis Schou-Hansen & Karoline Bakken Lund
Stadsgårdsterminalen / Slussen
fre
2 sep

2022
kl 19.00 –
AVSLUTAD
lör
3 sep

2022
kl 20.00 –
AVSLUTAD
Afterlife by Louis Schou-Hansen & Karoline Bakken Lund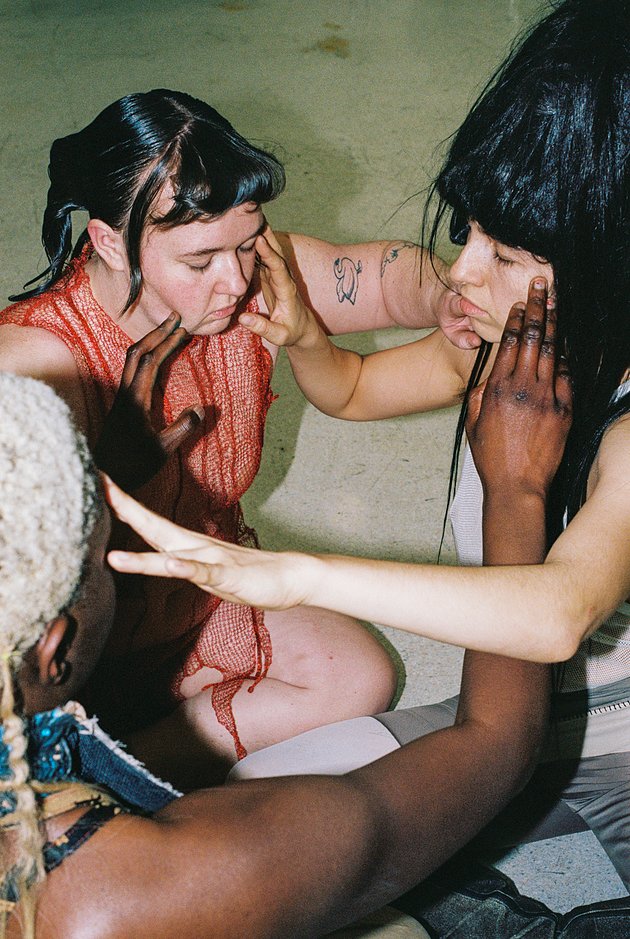 Afterlife is an alternative history, a site for speculation and ambiguous interpretations of a renaissance that never really happened. The work flirts with the idea of the death of classical ballet, while leaning into subtle irrationalities and dark humor. Afterlife revisits the origins of the ballet at the Renaissance. A time when the genre was mostly made out of folk dances for white aristocracies, and where a history of violence began to take course. By playing with counterfactual fantasies and "what if" questions, Afterlife breaks into, and re-imagines the foundations of the classical ballet and its possible other futures. Three performers explore reconstructions and the absurd symbolic gestures of original dances from the late renaissance. They seek to alter oppressive narratives, they look for common grounds and aim to infiltrate a history that never belonged to them.
Louis Schou-Hansen It/They (b. 1992, DK) is a dancer and choreographer currently based in Oslo. It holds a BA in dance from Oslo National Academy of the Arts and will from 2022 be working on its MA at the Dutch Art Institute. Its practice floats between making, performing and other social events. Lately, its interests revolve around counterfactual/speculative history and its projects are usually developed through a lens of queer and trans-feminist theory and practice. In 2020, Louis was nominated for the Norwegian Critics Prize together with Harald Beharie for their piece Shine Utopians.
Its work has been presented at Copenhagen Contemporary, Black Box Theater Oslo, Club Kaiku (by PUBLICS) Helsinki, Dansens Hus Oslo, among others. Louis has performed for and collaborated with artists like Ingri Fiksdal, Runa Borch Skolseg, Janne Camilla Lyster and Ines Belli to name a few. Together with Harald Beharie, it is currently shortlisted for the Sandefjord Kunstforening Art Prize 2023.
Karoline Bakken Lund is a trans-disciplined artist rooted in textile, found objects, and craftsmanship — mainly focused on sculptural work, scenography, and costumes in collaborative constellations. She works towards a transformation of hybrid sculptural works, where objects can be experienced as both installation, autonomous art works, props, clothing and undressed costumes - as part of a scenographic tableau with objects that are activated, amplified or misunderstood in different, absurd, and everyday performative scores.
"What if'' echoes in the old ferry terminal of Birka cruises (RIP!), now turned into a new culture point named Stadsgårdsterminalen. For MWF 2022 we ask ourselves "Can a dance and performance festival become a site for speculating alternative futures?" Through the now, though the then? Through togetherness and through choreographic experiments that can only render us into the unknown.
My Wild Flag is a festival and a choreography, inviting international guests to Stockholm showing performance arts, danceworks and social choreographies in new spaces for thinking. Come for some self-pleasure, erotic togetherness, imagination, intuition and alternative histories occupying space and time together.
My Wild Flag is initiated, organised and curated by Karina Sarkissova and Pontus Pettersson. Graphic design by Michael Fowler. Documentation by Vladyslav Kamensky. Technical crew: Em, Jonatan Winbo and Lumination of Sweden.
With support from Stockholm City Council of Culture, Swedish Arts Council and Nordic Culture Point. For 2022, MWF is collaborating with Danscentrum Stockholm, Dansens Hus, Kollektivet Livet and Lumination of Sweden.