Till death do us Party - mashed up millennial circus
Dans och cirkushögskolan - DOCH cirkushall / Östermalm
tor
28 mar

2019
kl 19.00 –
AVSLUTAD
fre
29 mar

2019
kl 19.00 –
AVSLUTAD
lör
30 mar

2019
kl 19.00 –
AVSLUTAD
Till death do us Party - mashed up millennial circus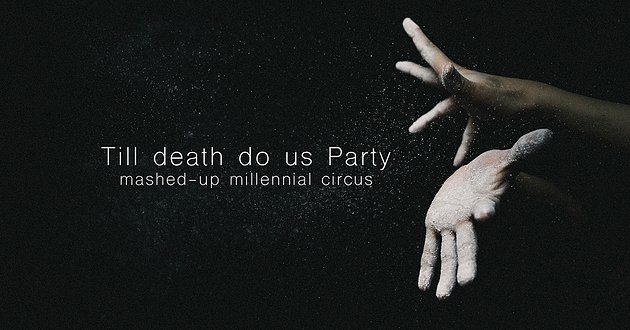 Till death do us Party - mashed-up millennial circus
"Keep it sweet, keep it light, keep it neat, keep it tight.
Close your eyes and party all night.
A nightmare circus show: part science fiction horror, part haunted house, part teen slasher.
Keep it fast, keep it tricksy, make it last, make it slinky bright
Forget the past and dance all night.
A zombie apocalyptic prom dance, an end of times anxiety dream.

Never fail, never fall, don't ever drop the ball – things will be alright
Ignore the storm and party all night.
Don't worry, all you wanna do is fly,
So don't say sorry and party, party till you die."

The 2nd year students in the bachelor programme in circus at DOCH invites you to a nightmare circus show!
A mashed-up millennial mix tape of 15 international circus artists in the making directed by John-Paul Zaccarini, Associate Professor in Circus, PhD and with collaboration from the Masters Programme in Contemporary Circus Practice.
The performance is about 1 hour long and is not recommended for ages below 7.
Place: DOCH Circushall Brinellvägen 34, subway is Tekniska Högskolan.
Participating students:
Aki Haikonen
Angéligue Cabanes
Antonio Panaro
Benjamin Beaujard
Elaine Briant
Joel Roxendal
Karl Wiberg
Katherina Dzialas
Luuk Brantjes
Mahé Nithardt
Pauliina Mutka
Rémi De Carvalho
Romain Robert
Walter Berndtsson
Photo and graphic design: Isak Stockås
Kommentera gärna! Vill du nå Kulturbiljetter så hör istället av dig på 08-50 25 40 80 eller info@kulturbiljetter.se.