http://youleft(my)joy@home.com
60 kr – 120 kr

Ö2 / Södermalm
fre
6 sep

2019
kl 20.30 –
AVSLUTAD
lör
7 sep

2019
kl 13.30 –
AVSLUTAD
http://youleft(my)joy@home.com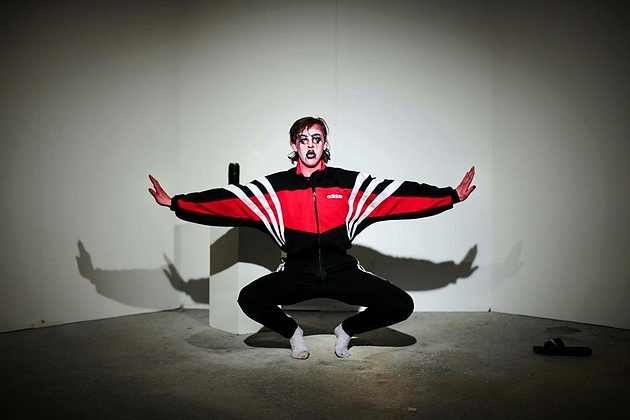 - This show is part of Stockholm Fringe Festival (#STOFFX) -
Svenska
Identitet ur konsensus; social acceptans, binaritet. Press att anpassa sig - humoristisk självbiografiska infall. Främmandegjord. Jag < Jag
 
English
Harper's 'http://​ileftmyjoy@home​​.​com,' revolves about displacement, queer culture, and varying societal attitudes and values. It is a comparative piece regarding Australian and Northern European views and legislation toward LGBT citizens, referencing differences between the geographically close Nordic countries and the Baltic Nations. The textual components' conception into an emotive explosion of internalized thoughts and externalized experiences offers a humorous/poetic approach to personal timeline navigation both IRL and URL. Combining notions of online dating, national identification, and queer culture, the work critiques views on international equality laws through personal action and referential statistical material; from an othered, non-binary Australian perspective.
Created by Callum Harper.
**
Part of Stockholm Fringe Festival (#STOFFX) and the Nordic Fringe Network (NFN)!
The festival takes place on 3rd-7th September 2019.
5 days in 13 venues with nearly 100 acts! Our 10th-anniversary edition offers a wide spectrum of entertaining and brave work created by women, non-binary and trans artists.
Cinema, dance, music, performance, theatre, street art, visual art, workshops, and everything in-between!
More info + full 2019 programme via: www.stockholmfringe.com
With support from Kulturrådet, Stockholms Stads Kulturförvaltning and Region Stockholm.
Kommentera gärna! Vill du nå Kulturbiljetter så hör istället av dig på 08-50 25 40 80 eller info@kulturbiljetter.se.